Take that A.K. And fire away God's on my side I'm here to stay, You think it's a game Are you ready to play Heaven or hell Choose you this day, You say I'm extreme By the words that I say But I say unto you There is only one way, Believe it or not There's a price to be paid Your soul is decided By the choices you made.
by Richard Grund ( www.OnSolomonsPorch.org ; L.A. Marzulli's Blog )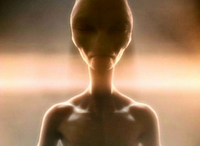 It's been a long wait. Dawn of time and all. He raged. He plotted. He failed. And, we all fell. The plan we...
Read Full Post »
The following is a true story, and a great song by Emerson, Lake, and Palmer (ELP).
- Prologue-
Walking through the city after recent rain.
Heard ancient stones all shining murmur where are they?
How long before next hero's day
And the splendid show of drum and gun?
Walking by the river one September eve
Saw questions rise in circles on that old...
Read Full Post »
The beauty of this world is breathtaking.
I see the majestic mountains,
And the mighty oceans,
The treacherous rivers,
And the tall and strong trees.
This world has so much to offer me.
It offers me beautiful scenery,
And grand and majestic wildlife.
It offers power and wealth to the cunning.
Endless love to the devious.
Shall I partake and enjoy all I am offered?
Shall I enjoy the wind at my back and th...
Read Full Post »
Lord, my Father, help me.
Prepare me to be a Living Sacrifice for You.
I love thee, O Father, my Savior, the Christ!
I thank thee for what you have done for me.
You became the Perfect Sacrifice for me.
By Your Blood, I have been redeemed.
You have blessed me with more than I deserve.
You have given me more than I could ever attain on my own.
Why is it so hard to Live for You?
Why does my sin haunt me so?

...
Read Full Post »
I found this poem narrated by one of my favorite Disney actors named Dean Jones. He's been in movies like The Love Bug, The Shaggy D.A. and Blackbeard's Ghost. He's also a Christian and fought in the Korean War. Although I've never fought a day in warfare, this poem touched me and I share it with you:
"One hot desert morning at dawn's early light
While trudging through the sand
I found a piece of paper
Clutched in a young man's h...
Read Full Post »
I said CHECK, will you not hear, CHECK!!!!!!! 

Will this work?!?!??!?! who knows