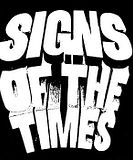 "And as were the days of Noah, so shall be the coming of the Son of man" (Matthew 24:37).
Most take the above verse as saying that Jesus meant the end times would be just business-as-usual.  However, the point still remains that Jesus still said "as were the days of Noah."  He still mentioned Noah, so it would be foolish to not even take a look at what the days of Noah were like [Proverbs 18:13].
Now, if you have been on our website for any period of time, you know that we believe this verse to be referring literally to the days of Noah and the strange goings on between fallen angels and women producing hybrids called "Nephilim."  You can read further into this by clicking here.  This article is focusing on a slightly different aspect of the days of Noah, however.  An aspect that is not in Scripture itself, but has been commonly believed by ancient Rabbis and early church fathers, and that is the subject of Abortion.
Recently, Stephen Chase Brigham, an abortionist in Maryland and New Jersey, was found to be the leader of an illegal abortion empire.  The article on the illegalities of his practice can be read by clicking here.  However, I would like to highlight some key (and gruesome) points in describing Stephen Brigham.  During the investigation, a police raid uncovered 35 unborn children in Brigham's office, preserved in jars.  He was found out for practicing medicine without  a license when he botched a patient's abortion.
The article states, "According to the Board, Brigham was in the habit of performing the first phase of the procedure, dilating the patient's cervix, in New Jersey; however, because his clinics did not meet safety standards to perform the whole procedure there, Brigham would then direct the patients to drive down to Maryland to have the abortion completed."
However, in this one case, Riley (one of Brigham's abortionists) accidentally cut through the patient's uterus, lacerating the 18-year-old's bowel and vagina.  Then instead of calling an ambulance, Brigham put her in the back of his Chevrolet Malibu and drove her to the hospital where he and Riley dodged every question, and the girl's injuries were soon discovered to be so critical that she was flown to Johns Hopkins Hospital in Baltimore.
As we draw near the End Times, the cases of abortions are increasing and becoming even more gruesome.  Now, most in the Pro-Choice crowd are many times very nice people who just have what they feel is the mother's best interest at heart.  However, this does not make it right, and many of the ones who perform abortions, such as Stephen Brigham or Planned Parenthood, are not nice people by any means, keeping bodies of dead babies preserved in jars like trophies and not caring about a young girl's well-being enough to call an ambulance.  Now, I am not excusing the girl's actions, who most likely had sex out of wedlock.  Yet, she is only 18 and many young people make mistakes, myself included (As Miley Cyrus says, Nobody's Perfect :P).  Some mistakes have greater consequences, but we all make mistakes.  I just hope she is okay, and comes to know the Lord Jesus if she does not already.
In the Bible there is great urgency among the apostles about a coming great deception in the end times.  Many Scriptures pertaining to the end times begin with "be not deceived" or "let no one mislead you," and many times the days of Noah are tied into this deception.  Matthew 24:7-8 states that "nation will rise against nation, and kingdom against kingdom, and in various places there will be famines and earthquakes.  But all these things are merely the beginning of birth pangs."
It goes on to say that Christians will be hated for the namesake of Christ, and that many will fall away and betray each other, echoing another feature of the end times.  That there will be a great apostasy, which is stated in 2 Thessalonians 2 and 1 Timothy 4, as well.  Verse 12 of Matthew 24 then states that lawless will increase, and "most people's love will grow cold."  People will grow cold to one another, and what are we seeing?  There is an increase in earthquakes, as shown by the U.S. Geological Survey.  And abortion is on the rise as well.  People are becoming less caring and growing cold toward the unborn.
Now, what does abortion have to do with the days of Noah, though?  That Scriptural connection to abortion in the end times was a bit vague.  Well, the book of Enoch gives some insight into this.  It is not an inspired book and I certainly would not treat it as such, but it is useful in a historical context and understanding accepted beliefs of the time.  The 69th Chapter of Enoch records a number of things that the fallen angels were teaching to humans, one of which being the performing of abortions:
"And the fifth was named Kasdeja:  this is he who showed the children of men all the wicked smitings of spirits and demons, and the smitings of the embryo in the womb, that it may pass away, and [the smitings of the soul] the bites of the serpent, and the smitings which befall through the noontide heat, the son of the serpent named Tabaaet" [Enoch 69:12].
This is surprising to many, but abortion is not just murder, but a demonic practice begun by fallen angels.  The same things we are having to deal with now were occurring in the Old Testament, and people's then had to deal with abortions taking place as well.  As the book of Ecclesiastes says, "there is nothing new under the sun" (1:9).
Also, we learn in Leviticus 17:11 that "the life of the flesh is in the blood" and that God gave that life to us "on the altar to make atonement for [our] souls."  I believe, based on this verse, that the soul of an individual is literally in their blood.  Remember Hebrews 11:22, "without the shedding of blood there is no forgiveness."  Jesus Christ poured out His entire life-force, His blood, to make the atonement for our souls!
However, Satan has always tried imitating and mocking God in order to deceive many, and this is why in the occult there is a lot of sacrifices and blood-letting, both in modern times and ancient times.  An example from Scripture is 1 Kings 18:28, which states that the prophets of Baal "cried with a loud voice and cut themselves according to their custom with swords and lances until the blood gushed out of them."  This is a mocking of Christ's sacrifice and is a sacrificial way to gain power from the forces of darkness.  Satan may be evil, but he is not stupid and he does have great power, as Taylor Brooks discussed in a previous Blog entry, "The power of Satan - Can it control you?"
Whenever an abortion takes place, there is blood that is spilled, and I believe that the rise in abortions over the years is literally opening portals, and coming through these portals are highly malevolent beings intent on deception.  Remember, this is not blood spilled for the remission of sins, but rather, it is blood spilled as a sacrifice to the Fallen One, mocking Christ's sacrifice.  Azazel has been thirsty for the sin bore by that "scapegoat," [Leviticus 16:8-28], ever since he was bound "hand and foot" by Raphael [Enoch 10:4-6].  Abortion and other occultic practices in which blood is spilled "feed" demonic entities, allowing them to manifest in our spacetime domain [coming Great Deception].  We may not always see them, but that does not mean that they are not there [2 Kings 6:11-17].  Do not let your guard down, and put on the whole armor of God [Ephesians 6:10-20].  We are all going to need it, and even if you are not in the battle, start firing the artillery and pray for all Christians everywhere [Ephesians 6:18].  We are approaching a critical juncture in our battle.
_____________________________________________
For More Information on Abortion:  www.biblestudynow.webs.com/abortion.htm
Categories: Biblical Lessons