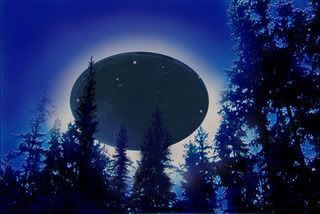 Now, I know what most of you are thinking, "Michael, again with the UFOs?  Why don't you cool it and talk about something else?"
Well, just a smidgen of research will show that "UFOs are real, burgeoning, and not going away," a phrase coined by L.A. Marzulli.  If there were only one or two sightings a year, no one would be talking about this, but in 1950 there was one sighting reported in the month of December.  Fast-forward to 2008, it jumped to over 350 sightings per month.  Something is obviously occurring and whatever it is, it is accelerating at a tremendous rate, paralleling the acceleration of earthquakes in recent years [Haven't I heard all this from somewhere before? Geological Survey].  Real, burgeoning, and not going away.
We are sitting in a time when the world of Science-Fiction is about to spill over into reality.  The supernatural realm is beginning to merge with our world [watch "Madness in the Fast Lane" to see what I mean. This is either a pair of hybrids or genetically charged super-soldiers, according to L.A. Marzulli].  There is no doubt that disclosure is coming, as stated in my last entry.  However, everyone will have to make their choice:  accept the visitors when they appear in the skies bringing in a fascist New World Order or fighting back with the blood of the Lamb and the Word of God.
They will make themselves out to be the saviors to all the problems we are experiencing [Alien Deception], and will promise us the world with the intent of leaving us desolate, dragging us to hell with them [Alien Gospel].
The following is an excerpt from the Watchers DVD, produced by LA Marzulli and Richard Shaw.  I encourage you all to order a copy of this fascinating 51 minute documentary that shows that UFOs are real, burgeoning, and not going away.
Categories: Christian News, UFO News