Traditions of the World:  Where's the Line to See Jesus?
< < < Back to "War on the Airwaves"
by Michael W. Kelley - December 4, 2011
EXCERPT FROM "FAITHFULLY READY IN SUCH A TIME AS THIS" (pgs. 229-233) - ORDER YOUR COPY ON AMAZON TODAY!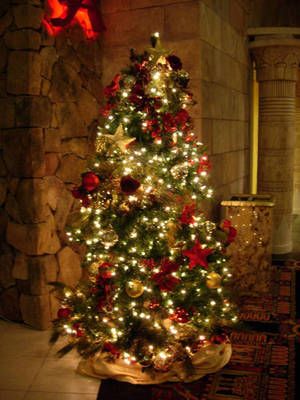 Christmas:  It is time of much hustle-and-bustle and tradition.  It began as a pagan holiday, but upon the spread of Christianity, it was converted as a celebration of the birth of our Savior, Yeshua/ Jesus Christ.  However, there are many pagan traditions that are still ingrained within the holiday itself, one such being the famed Christmas tree, which can be an idol to vanity and tradition:
"Thus saith the Lord, Learn not the way of the heathen, and be not dismayed at the signs of heaven; for the heathen are dismayed at them.  For the customs of the people are vain: for one cutteth a tree out of the forest, the work of the hands of workman, with an axe.  They deck it with silver and with gold; they fasten it with nails and with hammers, that it move not.  They are upright as the palm tree, but speak not: they must needs be borne because they cannot go.  Be not afraid of them; for they cannot do evil, neither also is in them to do good.... But they are altogether brutish and foolish:  the stock is a doctrine of vanities" (Jeremiah 10:2-5, 8, KJV).
Some take this passage to say that one should not have a Christmas tree at all; others take it to only be referring to idols made of wood and decorated.  However, after much prayer and consideration over what this text says, I have come to the conclusion that both points are correct in their own rights and both points are wrong as well.  I do not see a problem with having one each year, and our family has always had a Christmas tree, yet I do believe that whether or not a Christmas tree is what Jeremiah was describing or not, the modern Christmas tree has become this to many people, as it has become a type of idol to tradition, nonetheless.  Thus, it can applied to the Christmas tree by application only, not in any concrete, historical sense.  Yet, take into account that Jeremiah states to "learn not the way of the heathen."  The Hebrew word for "the way" used in this passage is "derek," which means, "a course of life or mode of action."  Essentially, it is stating that we are not to get caught up in the traditions of the world, just as Paul declares, saying, "Beware lest any man spoil you through philosophy and vain deceit, after the tradition of men, after the rudiments of the world, and not after Christ" (Colossians 2:8).
There is nothing inherently wrong with giving and receiving gifts, spending time with family, or decorating a Christmas tree during the holiday season, for "we know that there is no such thing as an idol in the world, and that there is no God but one" (1 Corinthians 8:4b).  The passage of Jeremiah also tells us to "be not afraid of them [i.e. idols, 'Chrismas Tree']."  As Christians, we are sanctified and set apart by the knowledge of the Word of God that we have received (John 15:19; 17:17), and the real point that Jeremiah is making is to not let all the traditions that the world is engaged in during this time of year overshadow what you know the time of year is for.  Anyone, whether Christian or Atheist, can give and receive gifts, spend time with family, and decorate a Christmas tree, but only Christians can shine the Light of our Lord on this holiday and declare what He has done, showing the world "the line to see Jesus" (note:  song above is on iTunes).
Whether you choose to use or not to use a Christmas tree, or whether you choose to celebrate the birth of our Lord on December 25th or another time of year is completely up to you.  I just hope that whatever you do, you will do all to the glory of God (1 Corinthians 10:31), and shine His truth to the nations!
"You're invited to the table by the One born in the stable.  He's the gift that's freely given to you.... He gives us every breath of life, 365, so every day is like Christmas." --Lydia Walker, singer/songwriter, "The Reason for Christmas" (purchase from iTunes, Zune, CDbaby, or LydiaWalkerMusic.com!! (Revelation 3:20)).
Jesus gives true peace, peace not as the world gives (John 14:27), as displayed by the historical event during the First World War on Christmas Day 1914.
Santa lives at the North Pole; Jesus is everywhere.

Santa rides in a sleigh; Jesus rides on the wind and walks on the water.

Santa comes only once annually; Jesus is an ever-present help.

Santa fills your stocking with presents; Jesus fills your heart with love.

Santa comes down your chimney uninvited; Jesus stands at your door and knocks, then enters your heart when invited.

You have to wait in line to see Santa; Jesus is as close to you as the mention of His name.

Santa lets you sit in his lap; Jesus lets you rest in His arms.

Santa does not know your name; Jesus knew your name before you did.

Santa has a belly full of jelly; Jesus has a heart full of love.

All Santa can offer you is HO, HO, HO; Jesus offers you health, help, and hope.




Santa says, "You better not cry"; Jesus says, "Cast all your cares upon Me, for I care for you."
Santa's little helpers make toys; Jesus makes new life, mends wounded hearts, repairs broken homes, and builds mansions.
Santa makes you chuckle; Jesus gives you joy that is your strength.
Santa puts gifts under your tree; Jesus became our gift and died on a tree.
It is obvious that there is really no comparison.  We need to remember what Christmas is all about, and put "Christ" back into the word "Christmas."  Jesus truly is the reason for season; be set apart from the world and its traditions... shine the light of truth of the Gospel during this time of year and show the world the meaning of True JOY!
"Have this attitude in yourselves which was also in Christ Jesus, who, although He existed in the form of God, did not regard equality with God a thing to be grasped, but emptied Himself, taking the form of a bond-servant, and being made in the likeness of men.  Being found in appearance as a man, He humbled Himself by becoming obedient to the point of death, even death on a cross" (Philippians 2:5-8, NASB).
"He shall be a staff to the righteous whereon to stay themselves and not fall, and He shall be the light of the Gentiles, and the hope of those who inherit eternal life" (Enoch 48:4).
Subscribe To Our eNewsletter!